Police Brutality
Consider the scenario. Somebody is out late, decides to sleep in her car, police come along, drag her out, decide to pretend that she is drunk, arrest her, claim that she refused to take the breath test. Then they knock her about before throwing her in a cell. This should not happen. It can. It did. What are the answers?
Once she was in the police station she was being held prisoner by the Custody officer. His job is to make sure that the police do not brutalize her. His work is overseen, more or less by a Review Officer. This arrangement was brought in by the Police and Criminal Evidence Act 1984 [ PACE 1984 ] precisely to prevent thugs in blue pointed hats attacking people. Of course what happens before she gets to the station is another matter. Police deal with that issue just as they always have; they do what they want, they lie, they destroy evidence, they commit Perjury, they Pervert the course of justice. All of this is Malfeasance in office and best of all they get away with it. You doubt this? Look at Police Corruption and doubt no more. Still dubious? Look at the G20 Massacre for a fine display of murderous evil and systematic perversion of the course of justice.
PACE gave rise to prisoner handling regulations. Once you, as the victim get to the station demand a copy. The prisoner is entitled to have access to it - see Code of practice for the detention, treatment and questioning of persons by police officers. They think you don't even know it exists. The code itself is at PACE Code C. They might well refuse but the point will definitely be taken. You should also know about your Right to have someone informed when arrested, Access to legal advice and Investigation of complaints: standard procedure,
When they release you demand a copy of the Person at Station form. They may very well stall. If so call 999 and demand it that way. Calls are recorded which make it more difficult for them to lie their way out of it.
Then proceed briskly to your doctor, any doctor and show him the bruises especially if they are size 12 boot shaped. It may be necessary to call him as a witness when you sue. A camera is a must. They are small, they are handy, they work unless the police smash them or steal them. Then get in touch with Max Clifford, the famous publicity agent. Do you want your black eyes on the front page of the Daily Mail Perhaps not. The police definitely do not. Embarrassing them makes it easier to get compensation or even, just possibly justice.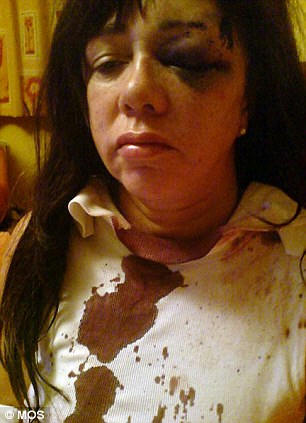 A genuine example of a police attack. The stains are her very own blood. She is a microbiologist, just like David Kelly but they murdered him. That was political not police having fun.
The money does not really worry them because it only comes from the tax payer. Their real concern is getting away with it. Keeping their thugs out of prison is the real issue for them. That is why you should make a fuss, loud, clear and continuous until you have a decent result. One plus point is that income from this source is tax free. It is the same with unlawful arrest and False imprisonment.
One man did go down this road after the police attacked him, broke his arm then prosecuted him. He got the pay off then emigrated. He knew they would hold a grudge. Real power means the power to abuse power. They don't like it when honest men win.
Hopefully you never need to put any of this into practice but you ought to know it, just in case. You should also know about Resistance to Interrogation. Talking to police interrogators can put you in prison for life. It could have happened to Barry George after he was fitted up.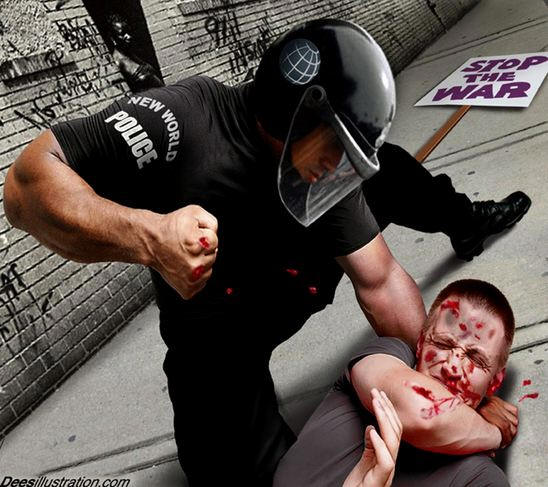 It happens in America too. It is healthy exercise; ask your doctor. He knows.
Police, Law And You


The police are your enemy. It is a simple point and important to understand. Procedural safeguards against them have been weakened by that corrupt little swine, Blair. Robert Henderson's guide to what you should say is important. There is a lot not to say as well.

Police Conduct Regulations
Tell us what they are not allowed to do. You might conclude that they are not allowed to take bribes from News Of The World or anyone else. Ditto for beating up prisoners. The reality is not the same as the theory.

Lancashire Police Are Vicious, Racist Thugs
So are the rest of course but this is evidence as distinct from opinion.
Police Thug Enjoyed Raping Prisoners [ 13 October 2010 ]
QUOTE
A policeman who raped and indecently assaulted a string of vulnerable women boasted: 'I am the law, I can do anything,' a court heard yesterday. Pc Stephen Mitchell attacked some of his victims in police cells after they were arrested for minor offences, the jury was told. The officer allegedly told the women - aged between 17 and 48 - that he would arrange for the allegations against them to be dropped if they performed sexual favours............

Mitchell, 42, is accused of five rapes, six indecent assaults and 15 further charges relating to Misconduct in a Public Office. They relate to 16 different women with whom he came into contact as an officer with the Northumbria force between 1999 and 2006. Paul Sloan QC, prosecuting, said Mitchell began targeting the women just months after he had completed his training in 1998. He is accused of raping or indecently assaulting seven different women.
UNQUOTE
The custody officer is there to prevent other police thugs trying it on. It works - sometimes. They are all experienced liars. This specimen looks like an arrogant rogue

PS See what another custody officer did:-

More and better details at Police Thug Gets Away With Six Months For Beating Up An Old Woman
Police Thugs Attack And Strip A Woman Prisoner In Cell [ 14 February 2011 ]
QUOTE

A UK mother has beaten charges of assaulting police in a holding cell after security vision showed that she was the one being attacked. The vision shows four police officers sitting on Stephanie Rutter, 25, after she was stripped naked at Cheshire police station. Rutter, a hairdresser, had been arrested after a domestic row with her boyfriend. After she arrived at the police station, there was a confrontation and police cut off her clothes, Runcorn Magistrates' Court heard. According to police, Rutter then assaulted a woman police sergeant, a woman constable, and a male and female detention officer.

But the footage showed the mother-of-one being elbowed in the jaw, handcuffed and put in leg restraints as the four officers kneel or stand on her. Rutter reportedly said outside court: "It was four on one, and they won. They left me in the cell with blood dripping down my face and covered in bruises. I thought my jaw was broken." She is now reportedly taking action against the police officers, whom are now also the subject of an internal police review.
UNQUOTE
The police are vicious criminals and hardened liars. They will stall on this one and eventually pay compensation if she agrees not to charge the perpetrators. Perjury, destruction of evidence, Obstruction of justice, Malfeasance in office and Perverting the course of justice are all absolutely standard practice in cases of this sort. The aim is to beat her by making her pay more than she can afford to lawyers.
Vicious Police Thug Convicted Of Collapsing A Man's Lung But Not GBH [ 30 August 2011 ]
QUOTE
A judge has warned a former police officer that he may be jailed after being found guilty of assaulting a man he was trying to arrest. Timothy Allatt, 33, formerly a Nottinghamshire police constable, was found guilty at Mansfield magistrates court of assaulting Jake Bramley in the early hours of 25 July last year. District judge Diane Baker told Allatt that after hearing two days of evidence she did not accept that he used reasonable force in detaining Bramley, who was being pursued by officers on suspicion of stealing a car. She said she was satisfied by evidence that Allatt hit Bramley, threw him against a wall and then dragged him face down on to the floor before kicking him in the chest area....

The judge told Allatt that when considering his sentence she would take into account that he was a highly trained authorised firearms officer [ in other words a murderous thug as well as vicious - Editor ], that he had received four commendations in his 11 years as a police officer and that he was widely respected.......... She added: "This was a gross breach of his position as a police officer." She granted Allatt unconditional bail and adjourned his case to 28 September for pre-sentence reports........

During the trial, the court also heard that Allatt was dismissed in April this year after a police tribunal made a finding against him for unreasonable force. But it was in relation to a separate matter and a different man who, the court heard, Allatt pushed against a wall. Allatt has since appealed against the decision, but Baker said it showed "bad character in the form of previous reprehensible behaviour".
UNQUOTE
He looks like a cunning rogue. Lying and perjury are a way of life for the filth. It is all too rare for them to come unstuck. He should have been charged with more than mere assault. ABH - actual bodily harm is an honest minimum but when a man has friends with funny handshakes things are different.



Another vicious thug
Vicious Police Thugs Beat Up Prisoner For Laughs [ 2 February 2012 ]
QUOTE
Innocent man who rang 999 from back of police van while being 'roughed up' by officers gets five-figure pay out
An insurance worker who rang 999 from the back of a police van after officers 'roughed him up' has won £10,000 in damages. Innocent Tomas James was wrongly arrested and bundled into a police van after taking his girlfriend to hospital in Cardiff. Mr. James, 28, dialled 999 to speak to emergency services as he was left handcuffed and locked in the police van. He claimed he was hit with a baton and punched in the head, and had called emergency services for protection from the officers who arrested him. Mr. James, who was prosecuted for an offence of assaulting a police officer and obstruction, has since been awarded a pay out after a court hearing............

As an ex police officer, I can confirm this incident is not, unfortunately a rare one, many officers have used excessive force, not read rights, and have assaulted, though many(??) are not like this, and if you take exception to their behaviour, you are treated as an outcast, very difficult.
UNQUOTE
Police have power and the power to abuse power. It takes eighteen months to make a policeman which is to say a hardened liar who will commit perjury at the drop of a hat. The brutality? That is just a bonus, fun, a perk of the job. They don't care about paying other people's money. Staying out of prison is the issue. Notice that the perpetrators in this one all walked free.
Black Police Get Away With Murdering An Englishman [ 29 July 2012 ]
QUOTE
The last time I saw my brother, we sat opposite one another firing ideas back and forth. I was working as a copywriter in Nairobi, desperately trying to come up with wacky radio advert ideas for car batteries........

Barely a day later, Alexander was dead. Having been arrested by the Kenyan police in the early hours of the morning, he collapsed in custody after suffering a fatal blow to the head. Handcuffed by the police to the bed, he died in hospital later that afternoon. He was just 28.

The needless and premature death of a loved one is tragic enough. But in Alexander's case, it has been compounded by a series of smears, lies and cover-ups. To anyone with even a basic knowledge of the facts, the circumstances leading to my brother's death are all too clear. But more than two months since the incident, no one has been arrested, let alone charged with the killing. And those investigating the case have been the least able, or willing, to uncover the truth.
UNQUOTE
Blacks murder an Englishmen. Where is the outrage from the white Racists who hate their own?

Policeman Likes Killing Blacks [ 4 September 2012 ]
QUOTE
Sweet as! What policeman shouted moments after robbery suspect was shot dead
A policeman shouted 'sweet as' moments after his colleague gunned down a suspect, an inquiry heard yesterday. Azelle Rodney, 24, died instantly when he was shot six times in a busy high street. The rounds were fired from the open window of a patrol car within a split second of it pulling alongside the VW Golf carrying Rodney.

The firearms officer – known only as E7 – was sitting in the front seat and let off eight shots after police in another car had forced the Golf to slow down. They believed that Rodney and the two men with him had machine guns and were on their way to rob Colombian drug dealers........

Officials hope the public hearing will dampen any accusations of a police and political cover-up.
UNQUOTE
This report is tosh. The point of a 'public hearing' is to conceal the truth, not vice versa. Coroners are not so easily controlled by the state. Killing for the fun of it takes a certain kind of mentality, one this thug shares with Myra Hindley
Police Thugs Taser Blind Man [ 19 October 2012 ]
QUOTE
Police in Lancashire have apologised to a blind stroke victim after he was hit by a Taser when his white stick was mistaken for a samurai sword. Colin Farmer, 61, required hospital treatment after being shot in the back with the 50,000-volt device and handcuffed on the ground in last Friday's incident in Chorley town centre. He said he had filed a formal complaint and was considering legal action against Lancashire constabulary, which has apologised and referred itself to the Independent Police Complaints Commission.

Mr. Farmer, who used to run an architecture business, said he felt like he was 'trapped in a nightmare' after being hit by the Taser while walking to meet his friends for a drink......... He continued: 'I thought I was going to be attacked by some hooligans. The next thing they fired a Taser at me, though I didn't know it was a Taser at the time.

'I just felt this thump in my back. As soon as the Taser hit me I hit the ground. I hit my head on the floor, then this policeman came around. I said "I'm blind, I'm blind. I'm blind".

'This policeman knelt on me and dragged my arms round my back and handcuffed me so tight I've had bruises since.'
UNQUOTE
You have to admire the police for their ingenuity. Lies are SOP [ standard operating procedure] but clever lies are another matter. The fact that a white walking stick looks nothing like a samurai sword is a detail. The brutality is a reality of the modern Gestapo. They are 'going to learn lessons'. One is that bare faced lies work. Another is that buying off their victims with tax money pays off. It keeps them out of prison.
Vicious Police Thug Attacks Oldie Then Whines After Being Laughed At By Nasty Policemen [ 23 February 2013 ]
QUOTE
Pc who became YouTube sensation after smashing pensioner's car window with truncheon 'was forced to quit job because of teasing from fellow officers'

A police officer became a 'laughing stock' over a YouTube video of him using a truncheon to smash into a disabled pensioner's car, an employment tribunal was told today. Pc Mike Baillon, 42, allegedly quit his job after becoming the butt of jokes from fellow officers over CCTV footage of him battering the Range Rover of 74-year-old driver Robert Whatley, near Usk in Monmouthshire, South Wales.

The video of Pc Baillon wielding his truncheon was viewed more than 30million times on YouTube, leading him to walk out of his job after being ridiculed every day by his fellow police officers, the hearing was told. The former traffic officer is now suing police chiefs for constructive dismissal after being relieved of carrying out frontline duties and also claiming damages for allegedly being bullied by fellow officers.........

Shocked: The two officers were later cleared of misconduct after an investigation but Pc Baillon was removed from front-line duties and his colleagues often brought up the 'Whatley incident', a tribunal heard
UNQUOTE
The police are one of the most dangerous criminal organisations in England, albeit these hooligans were operating in Wales. The fact that they are allowed to get away with Criminal damage demonstrates rather nicely that their internal discipline system is just as corrupt as the rest. They are all right when it comes to beating up people or taking bribes when they get problems they soon want Mummy to look after them.

Stop and search or just plain evil?


Notice the police thug dancing on the bonnet.
Police Thug Kicked A Chav In The Throat And Laid His Attack Dog On [ 11 September 2013 ]
QUOTE
A police dog handler who kicked a 15-year-old boy in the throat while his dog attacked him may be thrown out of the police force.

PC Kevin Peel, 44, assaulted the teenager in the early hours of the morning in a supermarket car park after the boy, who was carrying a bag of bolt croppers, tried to flee with other youngsters from police.

Westminster Magistrates Court heard how the teenager initially fled on his bike before he was caught outside Sainsbury's in Vauxhall, south London. The boy, who cannot be named for legal reasons, told the court he struggled to breathe after the Metropolitan Police Service officer kicked him twice in the throat, and called him a 'thieving c***' [ a thieving cunt one assumes - Editor ]. The trial heard he and a number of friends were being pursued by officers in marked cars in the early hours of the morning on 17 July last year.
UNQUOTE
CHAV can stand for Council House Associated Vermin. The filth are prone to call them as scrotes. The Main Stream Media? did not bother to tell us that the little swine was black [ probability > 50% ] because they are Racist, that is anti-English Racists of course. There no witnesses apart from police so it is surprising that perjury failed them,
If you want to tell me what they did to you, email me at Mike Emery. [ Not you Chris, I know about yours already. ]



If you want to keep it private, use my PGP key. Home
Updated on Saturday, 09 November 2013 07:42:55