BBC
The BBC is short for the British Broadcasting Commission. It has a reputation for honesty and an Alexa rating to reflect that belief. But you cannot fool all of the people all of the time and I do not believe them. It took me a long time to work out that they were biased and that they were a propaganda machine working for the left, that they were enemies of England but I got there in the end. They are happy to infiltrate the BNP and incite malicious prosecutions. They are Cultural imperialists who use Searchlight, a very nasty bunch of criminals. Other people agree that they are bad news. There is evidence out there. Here is some of it. When some one puts a controversial view you might agree. If he gives you sources he becomes more plausible. If his sources check out he should be taken rather more seriously. Read for yourself. Think for yourself. Decide for yourself. You don't have to believe that Cultural Genocide is the name of the game. If you think I am wrong tell me why. Mere abuse is an admission of failure.


Somebody else thinks the Beeb is bent.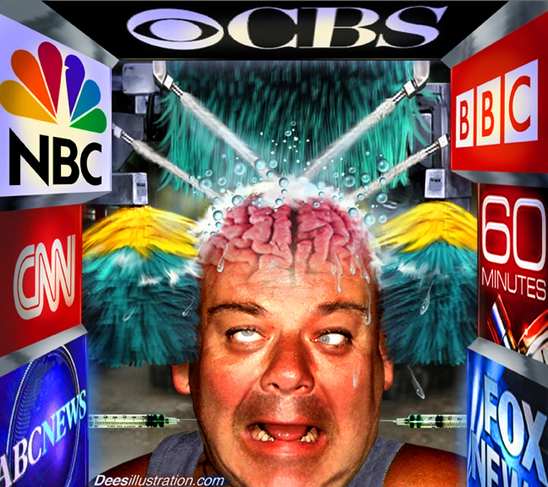 or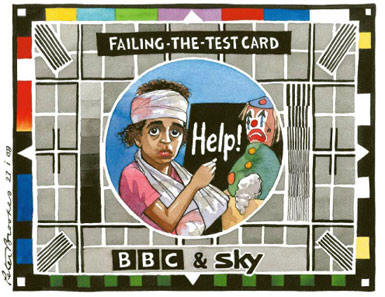 Their methodology can be described as adhering to the four D's, dodge, distract, distort, and deny. It is Disinformation.

Biased BBC - http://biasedbbc.org/
Read about the bias in real time. It is there all day every day.

BBC Paedophiles
The Beeb is a latter day Sodom and Gomorrah. Add in the Cultural Marxism to see a prime candidate for the scrap heap.

BBC Are Light Fingered Rogues Paying Themselves Big Time Say Patten
Patten does not mention the Paedophiles, homosexuality or even Cultural Marxism but then is he any better than the rest of them?

BBC Waste
Easy come, easy go. We've got plenty, let's spend it on ourselves. Obvious ain't it?

BBC Watch
Does what the name says. It is interested in the lies, the propaganda, the evasions. It is a worthy cause.

The BBC And Mugabe
The Beeb marketed the Marxist Mugabe because they market Marxism. QED.

BBC Perverted Truth In Re Global Warming Deliberately & With Malice Aforethought
QUOTE
In 2007, the BBC announced that, following a meeting with 28 "top environmental scientists" they year before, it would no longer pretend to give balanced coverage of the debate on man-made climate change. Instead, it would become a naked propagandist for the global warming scam. No salaried newspaper reporter bothered to ask who these 28 experts were, and what were their scientific credentials. It took five years before an independent blogger, Tony Newbery, got round to putting in a Freedom of Information request for the names of these experts. When the BBC sent a team of lawyers into action to get a biased tribunal to slap this request down, it was another blogger, Maurizio Morabito (omnologos), who dug round the Web until he found the full list, and showed that these 28 experts were mostly the usual riders on the global warming bandwagon. It became plain that the BBC, which is "public service broadcaster" with a legal duty of impartiality, was up to its neck in a gigantic intellectual fraud.

After the event, Melanie Phillips wrote a nice article about all this in The Daily Mail. It would have been a nicer article, of course, if she and her friends had lifted so much as a finger of their own to expose the fraud.
UNQUOTE
Sean Gabb goes for it again.

Biased BBC Blogspot
The name tells us all we need to know. I knew they were bent. These guys prove they are bent.

BBC Concealed The Truth On Foreign Office Orders
QUOTE
Frederick Forsyth, 72, is one of the bestselling thriller authors of all time, with over 70m books sold.
He joined the RAF straight after school, before becoming a regional newspaper reporter and then a foreign correspondent with the BBC. At 32, his first novel, The Day Of The Jackal , was an instant hit..........

�Stand up for what you really believe in. As a foreign correspondent with the BBC, I [Frederick Forsyth] was sent to Nigeria to cover the civil war. I was horrified by what I saw happening to ordinary citizens caught in the cross-fire. I reported back to the BBC, who said the Foreign Office had instructed them not to expose that side. I didn�t become a journalist to be a puppet producing managed news. I decided they might not have the courage to cover it, but I did, so I quit.� �Take a risk when you�re down, as the only way is up. I was in a hole in the early 1970s. For the previous two years, I�d been a freelance foreign correspondent after leaving the BBC.�
UNQUOTE
Frederick Forsyth was on the inside. He knows what he is talking about. The BBC is deeply corrupt.

BBC Crime Special


QUOTE
The British National Party is fed up with malicious propaganda exuded by the BBC so they are telling us about some of the genuine evil of our wonderful national broadcaster. NB that the thugs in this line up are all black. Then there are the drug users and the paedophiles. This British National Party offering is not covering the communist subversives waging a Culture War against England and Christendom. It is a major reality none the less.
UNQUOTE
The BNP is confirming what a lot of us suspected anyway. This rap sheet is lengthy but a mere selection.

BBC Tells The Lie Direct - Sniper's motive remains a mystery
The Beeb is a propaganda machine which totally suppressed the fact that Obama was using a Forged Birth Certificate - background is at Hate Crimes

The BBC And Lies
Doctor Gabb of the Libertarian Alliance gives us chapter and verse.

The BBC And Another Lie
The Beeb lies about Niggers. It claims that it is a VERY naughty word. Blacks [ aka Niggers or Niggaz ] don't agree.

The BBC Lies Again
Easy isn't it? Just do it then sneer at anyone who complains.

The BBC and Bias
Of latter years they have been letting their bias become blatant. They have a formal obligation to play straight. See it for yourself.

The BBC and Racism
The BBC has been at the forefront of the race relations industry - using it against England and civilization. Now they are changing their tune a bit.

BBC Bias
Some one else says that the BBC is bent.

BBC Charter and Agreement
Has superseded the older BBC Charter and given them more scope to lie and pervert the truth - not that they took much notice of it in the first place.
BBC Corruption
The Beeb has always had an agenda and, of late an enthusiasm for ignoring their formal obligation to take it down the middle. Herewith is some of the evidence.

BBC Hatred Of Free Speech
QUOTE
BBC shuts off Gabb's microphone during debate:
The Libertarian Alliance released a press release stating that Gabb had been invited to take part in a talk taped for the BBC on multi-culturalism, debating with journalist Yasmin Alibhai-Brown. Alibhai-Brown objected when Gabb said that the Libertarian Alliance believed the government's Commission for Racial Equality should be shut down, saying that without laws meant to control discrimination, it would occur more frequently. Gabb asked her, "Yasmin, are you saying that the white majority in this country is so seething with hatred and discontent that it is only restrained by law from rising up and tearing all the ethnic minorities to pieces?" to which Alibhai-Brown answered "yes." Gabb asked if Alibhai-Brown seriously thought that Gabb wanted to murder her, at which point the discussion abruptly ended (20 minutes prior to the end of the debate). After this debate, it was alleged that Gabb's microphone was shut off.
UNQUOTE
The Beeb wants people to think it favours free speech and democracy. They hate it when it doesn't fit the party line.

BBC Reported Building 7 Had Collapsed 20 Minutes Early
QUOTE
BBC Reported Building 7 Had Collapsed 20 Minutes Before It Fell WTC 7 still standing in background, Google removes clip...
Tuesday, February 27, 2007 (UPDATED 5:36AM CST)
RELATED: BBC Responds to Building 7 Controversy; Claim 9/11 Tapes Lost
RELATED: Time Stamp Confirms BBC Reported WTC 7 Collapse 26 Minutes In Advance
RELATED: After This Fiasco, How Can We Trust Anything They Told Us About 9/11?
An astounding video uncovered from the archives today shows the BBC reporting on the collapse of WTC Building 7 over twenty minutes before it fell at 5:20pm on the afternoon of 9/11. The incredible footage shows BBC reporter Jane Standley talking about the collapse of the Salomon Brothers Building while it remains standing in the live shot behind her head. Minutes before the actual collapse of the building is due, the feed to the reporter mysteriously dies..........

In a September 2002 PBS documentary, the owner of the WTC complex Larry Silverstein discusses Building 7 and states that in the late afternoon of September 11, the decision was made to "pull it." The term "pull it" is industry jargon for controlled demolition, but Silverstein denied charges that WTC 7 had been deliberately brought down.
UNQUOTE
You don't have to believe that the BBC is bent as a nine bob note - but it helps. You don't have to believe that 9/11 was an inside job - but it helps.
BBC War Crimes
During the war it happened. There were pressures which made it easier. See BBC the Early Days

Biased BBC
Is run by people who say the BBC is biased. They are keen to believe that the Beeb is biased against Jews. I just do not believe anything they say. It is simple and effective. Read for yourself. Think for yourself. Decide for yourself.
John Birt And Tax
QUOTE
Soon after Birt became director general [ of the BBC ] , his future was risked by revelations that he was selling himself to the BBC as a consultant, with Schedule D tax arrangements and an expense account which included secretarial payments to his wife and a large sum for suits. He survived, and joined the staff, where his salary rose to more than compensate. The scandal became known as Armanigate, since Birt is vain about his clothes: an acquaintance recalls once seeing Jane Birt in a beautiful dress and asking 'Is that Japanese too?' (Acknowledging that her husband was obviously wearing a suit by Issey Miyake.) 'No,' John Birt replied, indicating his own outfit, 'this is Japanese.
UNQUOTE
Did engineering at university it seems. But sound on tax; only victims pay. The Jew, Grade hates him so he is not all bad. View of tax confirmed by John Birt, Baron Birt

BBC Chairman Marmaduke Hussey
QUOTE
Lord Hussey, who has died aged 83, was a shining example of the widespread belief among the "great and good" of the British establishment that corporate management is a profession which can be practiced without technical knowledge. Marmaduke James Hussey, as he was born, was generally known as "Duke" but was called "Dukey" by family and friends at his own request, a cloying soubriquet for a man of six feet five inches and 17 stone. The massive physique was accompanied by a booming and not infrequently bullying bonhomie, underneath which lay the permanent pain of terrible war wounds. All he ever did professionally was manage; many would say mismanage. He started his working life as a management trainee without a shred of editorial experience at Associated Newspapers. Eventually, as managing director of its Harmsworth Publications subsidiary, he almost destroyed the Daily Mail.

Then he moved on to Times Newspapers, masterminding the catastrophic 1978-79 lockout which cost �40m and opened the way to the takeover by Rupert Murdoch - who, with unlikely gratitude, kept him on the board........ After that, Duke Hussey climbed his highest mountain as chairman of the BBC, wrecking its confidence and morale and appointing the egregious John Birt as director general.
UNQUOTE
Mr van der Vat tells us that Lord Hussey was dangerously incompetent but promoted because his face fitted. This explains a lot. One wondered why the BBC was allowed to be a festering bunch of communist subversives and homosexuals at the forefront of Cultural Genocide. Hussey and Birt were a disastrous pair. Marmaduke Hussey is the Wiki's offering and low key; Rugby, Oxford, Grenadiers, Anzio, then media.

Left Wing Bias Is In Their Very DNA
QUOTE
Left-wing bias? It's written through the BBC's very DNA, says Peter Sissons
For 20 years I was a front man at the BBC, anchoring news and current �affairs programmes, so I reckon nobody is better placed than me to �answer the question that nags at many of its viewers � is the BBC biased?

In my view, �bias� is too blunt a word to describe the subtleties of the �pervading culture. The better word is a �mindset�. At the core of the BBC, in its very DNA, is a way of thinking that is firmly of the Left. By far the most popular and widely read newspapers at the BBC are The Guardian and The Independent. �Producers refer to them routinely for the line to take on �running stories, and for inspiration on which items to cover. In the later stages of my career, I lost count of the number of times I asked a producer for a brief on a story, only to be handed a copy of The Guardian and told �it�s all in there�. If you want to read one of the few copies of the Daily Mail that find their way into the BBC newsroom, they are difficult to track down, and you would be advised not to make too much of a show of reading them. Wrap them in brown paper or a copy of The Guardian, would be my advice.
UNQUOTE
An insider talks. He talks because he is no longer with them.

Andrew Marr - Loud Mouthed, Arrogant, Racist And Full Of Hate
QUOTE
What then can be done? (Apart, of course, from widespread and vigorous miscegenation, which is the best answer, but perhaps tricky to arrange as public policy.) First, we need to raise still more taxes to help regenerate inner-city ghettos and to employ more young people, white and black.................

But, though teachers are the most effective anti-racist campaigners in the country, this means more than education in other religions it means a form of political education. Only people who understand the economic forces changing their world, threatening them but also creating new opportunities, have a chance of being immune to the old tribal chants.

And the final answer, frankly, is the vigorous use of state power to coerce and repress. It may be my Presbyterian background, but I firmly believe that repression can be a great, civilising instrument for good. Stamp hard on certain 'natural' beliefs for long enough and you can almost kill them off. The police are first in line to be burdened further, but a new Race Relations Act will impose the will of the state on millions of other lives too.

So it should - but not merely on the police, or the boys with spray-paint cans. Perhaps the big difference between working-class racism and middle-class racism is not that the former is more violent, but that the latter is more effective. The middle classes have sacrificed almost nothing to multi-racial pieties - often no more than smiling at the shopkeeper, inviting a black colleague for a drink or being pleased when your child knows as much about Diwali as Easter. That's the beam in our eyes -hypocritical abuse of the poor by people unwilling to pay higher taxes or review their own organisations and lives. We need a rethink in all big British institutions - venerable, liberal, conservative, commercial, public and educational - as they seriously ask themselves how eagerly porous they are to black people. Yes: employment quotas, publicly published numbers of ethnic-minority employees in annual reports. All that. They do it in America and South Africa. Until we start doing it here, why should anyone on the streets listen to a word, a single word, that the comfortable people have to say?
UNQUOTE
Loud mouthed, arrogant, racist and a bully eager to oppress Englishmen and destroy England. He is doing it too as part of the ruling class. He is telling the truth here because he knows that he is can get away with it. Note well - if you are poor it is because you are stupid according to Marr a Scotch oaf.

Paxman
Is a BBC front man with a big mouth, huge pay packet making tax beating moves and short changing his servants.
The propaganda we pass off as news around the world
The American government has been paying PR agencies to produce fake news. We were duly unimpressed. Now Her Majesty's Government has joined in more or less. Blair claimed in 2004 that "the values that drive our actions abroad are the same values of progress and justice that drive us at home". [ That means low, low, low. - Editor ]. They are fairly open about it being a Foreign Office operation. See Foreign & Commonwealth Office British Satellite News (BSN). The Graun is writing about it with a degree of malice. Perhaps they are envious of the easy funding. The Foreign Office propaganda budget was £340 million in 2001 and that was just in the UK. It will have gone up since the 9/11 Job.

Question Time Attacks The BNP In Gross Breach Of Any Obligation To Play Fair
The BBC are Marxists, propagandists, homosexual drug abusers full of hate but they normally get away with pretending to take it down the middle. This time they destroyed any claim they ever had to be unbiased.

BBC panel finds broadcaster breached guidelines on Israel


UNQUOTE
In reporting about Israel, BBC's Middle East Editor has breached the corporation's guideline on accuracy and impartiality, an internal BBC complaints panel on Wednesday stated.
The Zionist Federation of Great Britain and Ireland said that the findings show that the BBC has an anti-Israel "bias" and that the position of the editor, Jeremy Bowen, is "untenable." The corporation rejected these claims. "The findings are extremely serious," Jonathan Hoffman, the Federation's co-vice chair, told Haaretz. "They demand urgent and visible action by the BBC to restore public confidence. The BBC should start by publishing the Balen Report, which it has spent five years and a reported �200,000 trying to keep under wraps."..........

A BBC spokesperson reacted to this in saying: "We completely refute the assertion made by the Federation's that we have 'biased coverage of Israel' - this is a single, partially-upheld finding related to one piece of output about events that took place over forty years ago and our Middle East Editor was simply exercising his professional judgment on history." The spokesperson referred to the Thomas Report from April 2006 on the matter, which said: "Apart from individual lapses, there was little to suggest deliberate or systematic [BBC] bias."
UNQUOTE
Jews whining about bias should look at their own track record of shameless evil. See for a random example picked up in the same hour Israeli official says Israel will most likely not cooperate with UN investigation committee The BBC is bent but there is an answer. Do not buy a television licence.

Triad Of Evil
QUOTE
The triad are Andrew Marr, Jackie Ashley and Alice Miles. All three are big in the main stream media, a nexus of perversion. All three are Subversives. They might be thought of as Useful Idiots. They are too intelligent for that but they are followers of Antonio Gramsci, at the forefront of the Long March Through The Institutions, attacking Christendom. They are Cultural imperialists whose objective is Cultural Genocide.
UNQUOTE
Marr is a BBC front man. Marr is evil.
The BBC and Treason
You might expect our national broadcaster to be patriotic if nothing else. You would be disappointed with this lot.
BBC guilty of venality in its misreporting on Venezuela [ 13 October 2006 ]
QUOTE
Listeners and viewers expecting to find a safe alternative to the corporate-controlled media by turning to the BBC better reconsider their choice based on the vaunted news organization's reporting on Venezuela and specifically on the misinformation it put out in an online piece on October 8 titled - "Mass Venezuela opposition rally." It claims "Tens of thousands of people have marched through the Venezuelan capital, Caracas, in support of the main opposition candidate, Manuel Rosales."
UNQUOTE
The BBC is a pack of liars with an agenda. Their news operation is biased and grossly racist. They hate England. Their entertainment is designed to destroy England by destroying its culture. See Culture Wars on the point.
BBC Tells The Truth about BBC Bias [ 22 October 2006 ]
This is real news. The BBC has been pretending to be unbiased for decades. Now it has admitted some of the reality. Against England, Englishmen and Christianity; for homosexuality, anything vicious and alien.
QUOTE
BBC executives admitted the corporation is dominated by homosexuals and people from ethnic minorities, deliberately promotes multiculturalism, is anti-American, anti-countryside and more sensitive to the feelings of Muslims than Christians. Political pundit [ and left winger - Editor ] Andrew Marr said: 'The BBC is not impartial or neutral. It's a publicly funded, urban organisation with an abnormally large number of young people, ethnic minorities and gay people. It has a liberal [ left wing - Editor] bias not so much a party-political bias. It is better expressed as a cultural liberal bias.'
UNQUOTE
There is no mention of the heavy Jewish infiltration and control.

The BBC's cultural Marxism [ 24 January 2007 ]
QUOTE
Intolerant and consumed by political correctness, the corporation is waging an Orwellian campaign against British values.
UNQUOTE
So very true and they have been doing it for years. They are inciting homosexuals, communists, abortion and foreign immigrants without shame or let up. The Beeb was infiltrated by the apostles of Antonio Gramsci for a reason. He was the chief theoretician of the communist party. NB This is from The Grauniad, their spiritual home in the print.

BBC Bias - The Shock Is that Anybody Might Be Surprised [ 23 February 2007 ]
QUOTE
Writing in the Daily Mail today, Robin Aitken flags up his new book, Can We Trust The BBC? in a devastating critique of what he describes as a form of "institutionally Leftist". This follows on from the Daily's editor Paul Dacre who lashed out at the Corporation in January.
UNQUOTE
They used to be good at concealing their bias. Then they decided that they could get away with letting it show. Even their own now admit it from time to time. The writer did not mention their enthusiasm for inciting homosexuality but then it is just another branch of the evil that they espouse.
BBC Admits Its Guilt And Its Bias [ 26 March 2008 ]
QUOTE
LONDON – The British Broadcasting Corporation has been struggling for several years against criticisms and claims of biased reporting concerning the Israeli-Palestinian conflict, and distorted coverage of the global fight against terror.......... An internal memo, recently discovered by the British media, revealed what the BBC has been trying to hide. Senior figures admitted in a recent 'impartiality' summit that the BBC was guilty of promoting Left-wing views and anti-Christian sentiment.

Most executives admitted that the corporation's representation of homosexuals and ethnic minorities was unbalanced and disproportionate, and that it leaned too strongly towards political correctness, the overt promotion of multiculturalism, anti-Americanism and discrimination against the countryside..........One senior BBC executive admitted to the 'Daily Express', "There was a widespread acknowledgement that we may have gone too far in the direction of political correctness. Unfortunately, much of it is so deeply embedded in the BBC's culture, that it is very hard to change it."
UNQUOTE
The BBC is run by traitors and communists driven by a hatred of England but this piece makes it look as though they believe it is not run by Jews with an agenda but read for your self. Think for yourself. Decide for yourself. There is an easy answer to the BBC. Don't pay their licence fee. It has saved me hundreds.
BBC facing £250,000 fine over cheating [ 5 May 2008 ]
QUOTE
The BBC is facing a record fine of up to £250,000 after repeatedly ripping off licence fee payers on a string of shows. The amount, however, is nowhere near the £4million sanction ITV is facing over its scandals, as it is protected from big money punishments. The BBC is expected to receive its biggest ever sanction when Ofcom rules on its faking of competition winners on a number of programmes.
UNQUOTE
This is not for political fraud and misrepresentation which is their agenda. Nor is it for cultural genocide and they are utterly committed to that. But at least it shows that their supercilious attitude is a front for corruption.
BBC receives �400,000 fine for misleading contest shows [ 31 July 2008 ]


QUOTE
The BBC has been fined a record �400,000 by Ofcom, the independent regulator for the UK's communications industries, for faking winners and misleading audiences in its television and radio. In a number of BBC programs, the public was urged to call in to compete in contests. However, program-makers knew that callers had no chance of winning as contestants had already been chosen. Other shows had been pre-recorded, so nobody could win the apparently "live" competitions.....


The BBC made a public apology last summer when the findings came to light and said it was committed to putting its house in order [ Read that as not getting caught again - Editor ].


UNQUOTE
Game shows are trivial in their way but this matter tells us that the BBC is guilty of systematic fraud. Their real sin is Cultural Genocide, their work toward the destruction of England and civilization.
BBC Greed Driven And Treacherous [ 6 February 2009 ]
QUOTE
Auntie discovered in bed with big brother [ You wouldn't expect them to have a normal human relationship, would you? - Editor ]
The BBC has dropped a controversial tracking system from its UK website after privacy activists complained that it was reporting personal information including their post codes to a US company. Until recently, the BBC was sending copies of cookies dropped on bbc.co.uk visitors to Visual Sciences, a web analytics operation bought in 2007 by Omniture, a Utah-based online marketing firm...............

In January the IPC replied that the data sharing was part of an initiative by BBC Worldwide, the national broadcaster's commercial arm, "for the purposes of understanding consumption of the site by country (via GeoIP conversion) and to track consumption based on the number of user sessions". [ Spying is the honest word - Editor ]
UNQUOTE
This is trivial compared with their policy of Cultural Genocide but tells us what kind of devious crooks they are.
BBC Perverts The Truth Yet Again [ 21 June 2009 ]

QUOTE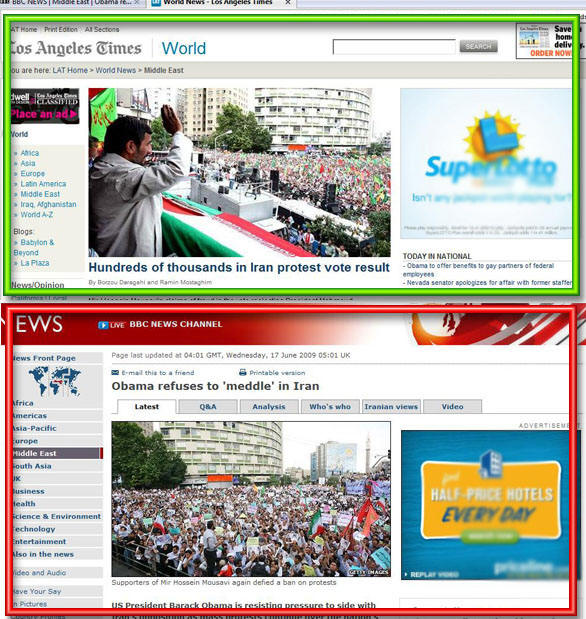 The British Broadcasting Corporation has been caught out once again blatantly lying with image manipulation over recent events in Iran, claiming that a crowd which had rallied in support of the controversial incumbent president was in fact rallying in support of his opponent. The blatant deception has become typical not only for the BBC but for many media outlets in Britain, and has brought shame upon the journalistic profession for those few professionals who are trying to do a decent job. The BBC�s latest deception has been exposed on the whatreallyhappened.com website, which shows how a photograph of a pro-Ahmadinejad rally which appeared on the Los Angeles Times website was deliberately manipulated and cropped by the BBC and presented as a rally in support of his opponent Mousavi.
UNQUOTE
The BBC is a Marxist propaganda machine and lying is its raison d'etre. Normally they use suppression, half truths and distractions rather than the lie direct. One answer is ignore them. Another is stop paying the licence fee. It has saved me hundreds if not thousands. See the original article.
BBC Propaganda Machine Lies Again [ 17 June 2011 ]


QUOTE
The BBC will make an on-air apology after its governing body said a Panorama programme about Primark probably faked a scene about the retailer�s working practices. The findings of the BBC Trust�s investigation into the episode Primark: On The Rack were released yesterday, saying there had been �serious editorial failings� in the programme. It added it was �more likely than not� that shots of three young boys in the Indian city of Bangalore in a workshop �testing the stitching� on Primark tops were �not authentic�.
UNQUOTE
The BBC as distinct from the BBC Trust knows the truth and did not bother to tell the investigators. This does not prove conclusively that they are guilty as Hell but it is suggestive. The Beeb is run by communist subversives, racists, Traitors, enemies of England and followers of Antonio Gramsci, the leading theoretician of the communist party in Italy.
Errors & omissions, broken links, cock ups, over-emphasis, malice [ real or imaginary ] or whatever; if you find any I am open to comment.



Email me at Mike Emery. All financial contributions are cheerfully accepted. If you want to keep it private, use my PGP Key. Home Page
Updated on 19/09/2013 08:49